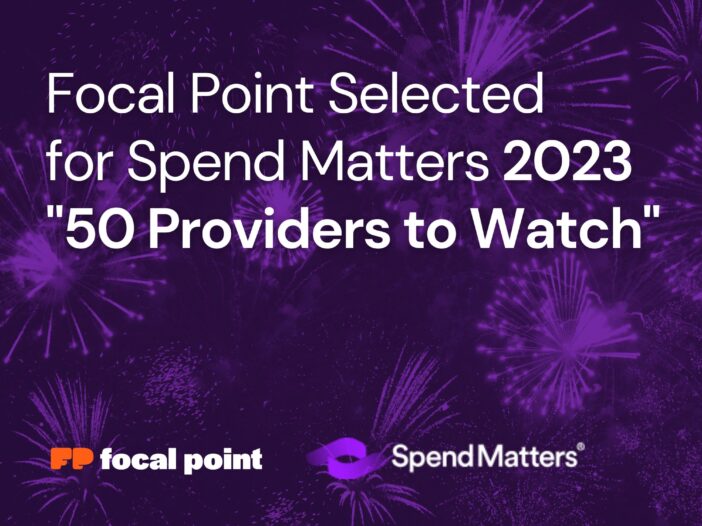 This list recognizes fast-rising procurement and supply chain solution providers developing innovative products that are moving the market forward.
ATLANTA, Oct. 17, 2023 /PRNewswire-PRWeb/ — Focal Point, provider of an end-to-end enterprise procurement management platform, today announced its selection as one of Spend Matters 2023 "50 Providers to Watch," a list that is sourced and calculated by the entire Spend Matters analyst team to represent the best of the technology providers that serve procurement, finance, and supply chain organizations.
"Our core mission is to empower every procurement leader to make better decisions that drive business and brand value," said Anders Lillevik, Focal Point's CEO. "We saw an unmet industry need for a procurement solution that centralizes processes, automates workflows, connects people, and integrates data all in one place–and this was the basis for our platform. Being recognized as a company accelerating innovation and growth in the procurement industry is an honor for our entire company."
Being recognized as a company accelerating innovation and growth in the procurement industry is an honor for our entire company.Tweet this
Each year the 50 Providers to Watch list recognizes the fast-rising companies in the procurement and supply chain market – and this is the tenth annual release. These are the up-and-comers: solution providers who continue to grow and develop innovative products propelling the market forward.
"Focal Point is a provider to watch for 2023 after being named on our 2022 Future 5 list." said Nikhil Gaur, the Spend Matters Research Analyst & Project Associate. "Focal Point has evolved from a centralization tracking tool to an extremely customizable intake and procurement strategy solution with an emphasis on ease of use and collaboration."
Go to https://spendmatters.com/ to view the full list of the 2023 50 Providers to Watch.
About Focal Point
Focal Point empowers enterprise Chief Procurement Officers to fully modernize and optimize their operations. With Focal Point's end-to-end procurement management platform, procurement teams can maximize the value of every dollar spent, ensure the safety and security of all transactions, and ultimately enhance the customer experience. Focal Point's platform integrates seamlessly with legacy procurement infrastructure, ensuring maximum ROI on existing investments. Global brands manage their procurement with Focal Point. The company was founded in 2020 and is headquartered in Atlanta. For more information, please visit https://www.getfocalpoint.com/ or email info@getfocalpoint.com.
About Spend Matters
Spend Matters is the leading solution intelligence source for procurement and supply chain professionals. Combining deep technology analysis and tailored advisory services with daily news coverage and subscription research, Spend Matters is trusted by CPOs, consultants, investors, and solution providers alike as their procurement technology intelligence partner.
Media Contact
Peter Moran, Indicate Media, (347) 880-2895, peter@indicatemedia.com, indicatemedia.com
SOURCE Focal Point